By Frank McAlonan


IP STATS


Field:
Fine Art

Specialty:
Watercolors

Hours per week:
30-60

Main current clients:
Lawyers, construction companies, couples in their middle years

Rates:
All commissioned work is priced individually

Earnings (in a good year):
$60,000

Favorite business readings:
Forbes

Other favorite readings:
Consumer Reports, Time Out New York

Best way she gets clients:
Lecturing about my work; exhibiting and painting while people watch

Worst wage-slave job she ever had:
Gallery-sitting
Q & A


What was the worst project you ever worked on, and why?
I did a painting and print for someone. Whatever I did he wanted to see something slightly different, and several versions at that, with samples. It went on for months.

What was the best project you ever worked on, and why?
I was commissioned to design grand-scale decorations for a party. The budget was decent, I was provided a small army of helpers and then invited to the party and recognized for my efforts.

What do you say when people ask about "your job"?
I tell them I'm self-employed and have the privilege of working 24 hours a day when necessary. I'm the CEO, the shipping clerk, and everything in between.

What is your guiding philosophy?
I strive to paint the perfect picture, which I know will never happen, but the quest gives meaning to my work.

If you could be anything other than what you are now, what would it be?
It's a toss-up between racecar driver and lawyer. Racecar drivers push their skills to the limit, and lawyers think clearly.

It looks like watercolorist and oil painter Naima Rauam has made it. Her paintings hang in the Smithsonian. She's been collected by Bank of America and Morgan Stanley Dean Witter. She's even listed in Who's Who of American Women. Who could argue with a resume like that?
Naima Rauam, that's who.
Rauam, an IP who just happens to be an artist, knows that an impressive list of past achievements is not the same thing as success. She knows that, to truly "make it," an IP has to constantly plan, produce, and promote -- three "p"s that might well constitute a motto.
She Covers the Waterfront
For 15 years, Rauam has made it her business to paint New York City's Fulton Fish Market -- and business has never been better. Recently, her waterfront watercolors have brought her a nice slice of fame. In fact, Rauam has been given the unofficial title of "artist in residence," and The South Street Seaport Museum is currently hosting a six-month retrospective of her work.
Rauam sees the honor for what it is. She says that being an "artist in residence" hasn't made an appreciable difference in her income of $40,000 to $50,000 per year. The title is nice, but she still has to get up and go to work early in the morning.
Really early.
At 4:30 a.m., when most New York movers and shakers are still hugging the pillow, Rauam revs up her battered '87 Toyota "street car" and heads downtown to work at the fish market. The Fulton Fish Market is a Big Apple institution that has been open every day, in all weather, since 1822, and Rauam loves it. Part of the historic South Street Seaport at the tip of Manhattan, the market operates much as it did in the 1800s, running flat out from 9 p.m. to 11 a.m., selling 300 types of fish from all over the world to 5,000 retailers in the Northeast.
"What goes on here is real work," she says. "It's serious business, it's feeding people, and we have precious little of that left in Manhattan. I go around and do sketches, learn about a subject and pick up the ambiance." While the city sleeps, Rauam captures the contrasts in the market's early morning bustle, the history in the seaport's old red brick buildings, and the action in the harbor.
At first, the fish market guys used to call Rauam "da artist." She must have looked a bit odd to them. She'd set up her easel and she'd sketch trucks moving in and out, unloaders hefting backbreaking boxes in driving snow, fishmongers bargaining, buyers checking out the halibut, squid, and tuna. Nowadays, she's like a member of the Fish Market family: one of the unloaders even bought two of "da artist's" paintings.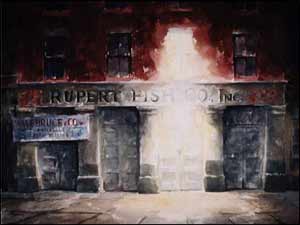 Making the Scene
Rauam's work involves equal parts art and commerce. For example, she paints every day to improve her skills and stretch the potential of her medium, but she also draws constantly on her hard-earned business knowledge and a wealth of common sense. By successfully combining her diverse talents, Rauam has made the New York art scene.
But it didn't happen overnight.
Rauam grew up in Washington, D.C., and first visited New York when she was eight years old. "That was it. I instantly knew I was a New Yorker," she says. "It was just a wretched accident of birth I was parceled out to the wrong family. After high school I made a beeline for New York to study at the Art Students League."
At the Art Students League she met and began working part-time for an art-loving Greek furrier. "He collected art and studied it, so he came to the League to meet a student he could share his passion with," she says. He ended up hiring her. Answering phones, handling correspondence, doing bookkeeping, learning to cut and sew pelts into coats and ski parkas, she picked up a strong business sense. Evaluate the client, she learned, get a one-third deposit up front, use all your material.
Still, selling fur coats is one thing; selling art is another. As if in further preparation for IP-hood, Rauam went on to manage an art gallery on Nantucket Island for several summers. There she learned how to choose salable artists, select paintings, arrange and hang shows, and schmooze buyers. Later, when she went out on her own, she was able to organize the business and set up financial records that let her accountant quickly analyze the numbers and focus on tax-reduction strategies. Today Rauam is artist, framer, shipping clerk, bookkeeper, and CEO of her one-woman business. It keeps costs down.
Vegetables and Other Distractions
Unfortunately, keeping costs down doesn't help Rauam produce new paintings. In fact, a number of factors hinder her production.
"When I had my home and studio in one space, I'd say, 'I'm going to wash that lettuce for lunch.' Or 'I'm really hungry, I think I'll finish that ice cream,'" Rauam says. "Then I'd have to call so and so." Now she has a separate studio in the market space itself. The entrance is through the cavernous market, past the fish stalls, up a narrow, steep set of stairs, and through the workers' changing room. Here, in a partitioned area with a harbor view, Rauam does her work, armed with art supplies and a case of bottled water.
Even with a separate studio, staying focused remains a challenge. "I still have to trick myself to work," she says. Promising herself the reward of a walk or a bite to eat helps get projects done. She uses a calendar to set time goals and gets a rush from crossing out completed jobs. It takes a few days to a couple of weeks to turn a 15 x 22 inch sketch into a watercolor, and she may have a dozen works in progress simultaneously.
Waiting for the muse isn't part of the schedule. "Inspiration comes along once in awhile, and it's very pleasant and delightful," Rauam admits, "but it's not something that I count on. There are days when the work just doesn't go." For those days she has a to-do list of projects -- stretching canvas, framing, running errands.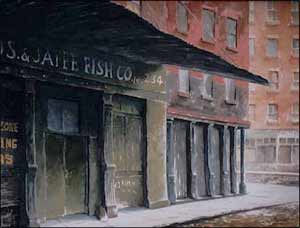 Alert! Alert! Alert!
Rauam is constantly alert to new opportunities and looking for new buyers. "You never know where a sale is going to come from, or where you're going to get a contact," Rauam says. She regularly submits slides and proposals for gallery shows, juried exhibitions, and fellowships. Last year, in addition to creating and marketing her watercolors and oils, she won a New York Foundation for the Arts grant, taught demonstration classes, and designed and executed a series of scene panels for a play. "The set design was a 28-day, 14-hour-a-day marathon, and I wound up with carpal tunnel syndrome," Rauam says.
The foundation grant of $7,000 allowed her the time to assemble and prepare her one-woman retrospective show, While the City Sleeps, now on exhibit at the Seaport Museum. "It took six months to compile it: finish the artwork, do liner notes, compile history, and unearth sketchbooks. Without the grant funding I could not have afforded the loss of production and sales," she says.
Rauam has also launched a web site showcasing her work, and she networks for space to hang her art at business events and cocktail parties. That's always a real workout.
"I'll choose paintings based on the industry group that's going to be at an event," she says. "I pack my paintings in the car, put on a nice dress, schlep up to midtown or over to Brooklyn or out to Long Island, hang the exhibit, and do the party shtick. Then pack it up, go home, and collapse."
Corporate clients come to her through the grapevine or mailings, which yield a ten percent return. "I'll look at lists of the 200 fastest growing companies or the 400 largest," Rauam says. "If they're in construction, I'll offer to do a building for them. Or maybe I'll do an industry scene or an executive's home, yacht, or plane." She keeps work boots and a hard-hat in her car. "When I'm at a construction site I try to blend in so I'm not disrupting the work."
She accepts commissions for one-of-a kind watercolors. She offers a package of a watercolor and 1,000 imprinted holiday greeting cards for $2,500, and has completed work for Wall Street brokerage firms like Morgan Stanley Dean Witter and law firms like Postner & Rubin. Commissions make the difference between an average year and a good year, when she can add cash to her IRA, stock up on supplies, pay down debt, and travel.
Rauam has found her niche and fashioned a life as an IP in the most competitive art market in the world. Staying there is a full-time job. What does the hard-driving Rauam do when her full-time job gets to be too much? She shucks the Toyota and takes her white 1992 LT1 Corvette to a Connecticut racetrack. Grinning, she says, "I did 111 miles per hour last week."