"You go apeshit designing cards that feature more fancy form than true function."

"Photoshop allows you to do so much," Kocina says. "You go apeshit designing cards that feature more fancy form than true function."
To illustrate poor business-card design, Kocina tells of an acquaintance who chose a flashy design for his business card simply because his competitors had -- thereby aligning himself with them even though he provided a distinct, higher-quality service. "He does things quite differently from anyone else, but you wouldn't know it by his business card -- a four-color, two-sided number like those used by his professional peers in an increasingly competitive marketplace," says Kocina. "He's a victim of an identity crisis."

Once Kocina gave up pretty-picture advertising (which he practiced while working for a Twin Cities advertising firm) he formed his "one-man band" to design identity packages -- logos, business cards, letterhead, Web pages, PR and marketing media -- for new and existing businesses.
"Now that I've thrown pretty-picture advertising to the wind, every action and every identity piece has to have the client's end objective in mind. It's all about questions. My foremost question to clients is, 'What is your desired result?'"
Kocina suggests blending an engaging balance of simple design elements. "Be very mindful in choosing fonts, and paper and ink colors," he warns. "And keep text to a minimum. The more you try to tell people, the more you'll shut them out."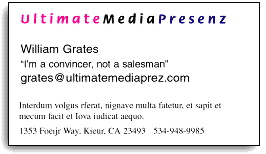 The Inner Sanctum
Once you've chosen a tasteful design for your business card, be sure to use it properly. You shouldn't have to read Emily Post to know that throwing cards at people is bad etiquette, but Norm Stoehr, founder and CEO of Inner Circle International, Ltd. <www.icintl.com> says he's witnessed many different clumsy business-card management styles.
As founder of Inner Circles, a network of peer advisory groups for business owners in 1985, Stoehr has had ample opportunity to observe people exchanging cards. In the Twin Cities, he facilitates six groups of 12 to 14 members each, and has franchised the concept to affiliates in Baltimore, Chicago, Fargo, Minneapolis, San Diego and Seattle.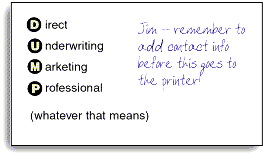 At their monthly, three-hour breakfast sessions, Inner Circle members discuss victories, setbacks, projects, and problems. Marketing poses constant challenges and opportunities for their members, and business cards play no small part in their marketing efforts. "They're essential for any free agent or soloist," says Stoehr, an ardent proponent of the K.I.S.S. philosophy (Keep It Simple, Stupid). "Less is more. I like to be understated and let people come to me. Too much information removes the mystique of who you are and what you can deliver."



It's rude to hand your card to someone unless it's asked for. It smacks of desperation.

Stoehr bristles when anyone asks him or Inner Circle members to "take a bunch of my cards and hand them out." (Pause for restrained, yet palpable, silence.) "No one acts on that -- not the person who's asked to dispense them, nor the secondhand recipients," he asserts. "It's also rude to hand your card to someone unless it's asked for, or you're at a designated networking meeting. It smacks of desperation."
Then how are IPs supposed to engage potential customers? "Be other-centered," says Stoehr, a master schmoozer. "Learn about them and their needs. Hook into their dreams!"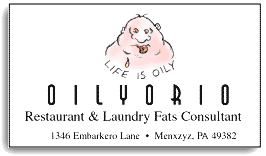 Wise Leader
Since 1989, Rita Webster, Ph.D., has coached business executives and managers on the nuances of working through people in order to achieve their career goals. Her one-woman company, aptly named WiseLeader, evolved as she pursued a doctorate in organizational development at the University of Minnesota.
Business cards, she says, communicate more than your address, title, and phone number. "Business cards bring credibility to what you do by demonstrating commitment to your business -- whether you spend $10 to Xerox a set of cards at Kinko's, or $10,000 on an entire identity package," Webster says. "They're valuable exchange tools in that they allow you to make greater connections with prospective clients. They give a sense of who the person is and what they provide." Echoing Stoehr, she says that how you give them out is as important as what they say and what they look like. "The key," she says, "is to make it personal first and then trade information."
Once cards have been exchanged, Webster tells clients, ask questions and listen carefully to the answers. A business card is an invitation to a relationship, and relationships yield business.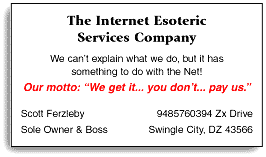 Still Think They're Useless?
Larry Freeborg didn't rely on business cards to build relationships -- or his consulting business. Seven years after launching his consulting business, though, he "got religion" on the handy little devils.
Fourteen years ago, the "down-sized/right-sized" marketing communications and product manager was advised -- by the outplacement firm engaged by his former Fortune 500 employer -- to consider consulting. Today, he commands $200 an hour to help entrepreneurs in the U.S., Australia, Chile and Costa Rica solve business problems.
"In corporate meetings, the first thing you do is exchange business cards," Freeborg recalls. "I wanted to distance myself from that identity, thinking, 'I'm in a different game now, working as an independent consultant. I can get by without it.' Not so. It was inconvenient -- and unprofessional -- to not have them. They're an industry-standard means of transferring information. They're important for anyone trying to create an identity in the marketplace."