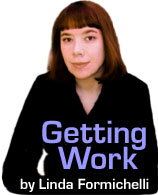 Columns by Linda Formichelli:
List all of Linda's columns
Visit our other Getting Work columnist

The Art of the Article
If you followed the advice in my column on query letters, you probably have editors clawing each others' eyes out to acquire your writing. Congratulations! Your article will be great publicity for your IP business and you'll have an impressive clip to send to your clients and prospects. Yes, we know you're not trying to make a living as a writer (most of you, anyway), but nothing impresses potential clients more than your getting an article published in your field -- "Say, this guy must really know what he's doing!"
OK, so an editor's given you the green light. But along with that warm and fuzzy feeling of being wanted comes the icy cold dread of having to actually write an article. Fear not -- I've written hundreds, and I can assure you it's not brain surgery. (It's more like a hernia operation.) Follow these tips to turn out an article that will result in a happy editor, happy readers, and a happy IP.
Go to the Source
Since you're writing an article on a subject that you're already familiar with (i.e., what you do for a living), you might be able to churn it out without cracking a book or speaking to another soul. On the other hand, references and quotations can add life to what might otherwise be a droning monologue.
Whom should you quote? If you're leery of quoting someone else in your industry -- hey, let them write their own articles -- you can talk to people from your target market. For example, that life coach I mentioned in my column on queries could interview parents about how messy their children's rooms are, then give advice on how to solve the problem (like close the door). Or take the personal trainer writing on motivation: he could illustrate his points with success stories from former couch potatoes.
You might also look for experts in a complementary field. Now, you're unlikely to find these people within your circle of friends. A service I use so much I should get frequent flyer miles is ProfNet, which matches journalists with people who are interested in being plugged in the media. Thousands of businesses pay good money to subscribe to this service so you don't have to move your lazy butt all the way across the room to pick up the phone book. You can search for experts on the site or fill out a query form and have your request for interviewees sent to every ProfNet member. Other good expert searches are Yearbook and Experts.com.
Once you've found your expert, ask to schedule a phone or email interview. Don't be afraid! People register for these services because they want you to interview them.
Take the Lead
Those first few sentences can make the difference between a piece that readers eagerly absorb and one that they slide over like a teenager flipping past the articles in Playboy. If you're not sure what approach will grab your readers by the eyeballs, take one of the approaches I've used in my own articles:
(Well, don't really take them -- that's called plagiarism, and I'll sue you for big bucks if you do.)
Quotes:

Stephanie Fraleigh of Massachusetts is one person who does not "got milk." "I love ice cream and cheese, but suddenly it was making me so sick," she relates. "Now when I eat dairy, I sometimes feel like I've been kicked in the stomach."
Statistics:

Crafts are big business. According to the National Craft Association, the last three years have seen a steady 43% growth in the crafts industry, and sales of craft and hobby products topped ten billion dollars in 1995, 1996, and 1997.
Situations the reader can relate to:

Your husband's birthday is next week, and you haven't an idea of what to get him. Your best friend -- the one who's notoriously hard to shop for -- just got a promotion, and you're desperately scouring the mall for something she doesn't already have two of.
Questions:

What would you do for 1,000 guilders? Would you strip naked and let a chef dress you like a Thanksgiving turkey? Ask strangers if you can bite off their toenails? Kiss ten men on the buttocks? Participants on the Dutch game show Over de Roooie have done all of the above and more.
Written on the Body
Remember when your fifth grade teacher told you that an essay has an introduction, a body, and a conclusion? Well, if she knew that twenty years later you'd be writing articles, she'd be spinning in her gra -- er, I mean, she'd tell you the same thing. The body is the part where you support your topic with quotes, anecdotes, and personal experience.
I can't tell you exactly what to put in your body -- that's a very personal decision, after all -- but I can give you a few tips on how to make your body attractive to both readers and editors.
Write like you talk (but leave out the cuss words).
Be active whenever possible. The passive voice is stilted and boring. Write "I earned $10,000 on that project," not "That project earned me $10,000."
Alternate long sentences with short ones to make the article flow better.
Use bullet points to break up the text.
Read my column Empowering Your Savvy Synergistic Marketing Paradigm for words to avoid.
End It
Unfortunately, you can't just stop writing when you get tired (or this column would have ended a few paragraphs ago). You need something that sums up the article and leaves the reader feeling like the five minutes she spent reading it wasn't a mind-numbing waste. Here are some good ending techniques (again, taken from actual articles):
Quotes:

As Orville Magoon explains, "It takes cats to make a good wine."
Summary:

Take some precautionary safety steps, educate yourself on OSHA requirements, and take advantage of free literature and programs -- and you'll have no reason to be afraid when the inspector shows up on your doorstep.
Look to the Future:

Hopefully this legislation will prompt more employers to accommodate the needs of working mothers so that these women can nurture their families -- as well as their careers.
Question:
Coming up next: microbes that take out the trash?
Okay, I gave away all my trade secrets so that you, too, can reap the benefits of generating publicity by writing articles. Now get moving -- you're on a deadline. (How's that for an ending?)