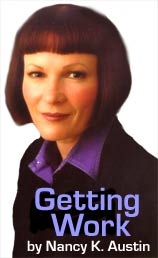 About Nancy K. Austin
The Real Deal
Nancy K. Austin is the total package, the real deal. Her extensive work and writing has changed the way business does business. She received international acclaim with the publication of A Passion for Excellence: The Leadership Difference, the number-one bestseller she co-authored with Tom Peters. Hailed as a "new direction for American business," A Passion for Excellence is a management classic. Ten years before, Austin made her debut as a best-selling author with The Assertive Woman, a pioneering exploration of the value of assertiveness for women. A brand new edition was published in 1997.
Austin has spoken before business, civic, educational, and military leaders in the U.S., Australia, Africa, Asia, Europe, and South America. She continues to introduce entrepreneurs and executives, students and soloists to people and places on the cutting edge. As one of the most popular voices on modern business, Austin's work has been published in dozens of journals and magazines. She also serves as a contributing editor and writer for Inc. magazine.
Nancy Austin holds a B.A. and an M.B.A. from UCLA.