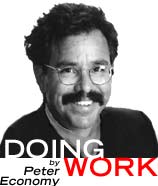 Columns by Peter Economy
List all of Peter's columns
About Peter Economy
Lives, Eats, and Breathes Business Books
Peter Economy has written, ghostwritten, edited, and repaired more business books than he can remember. On the list of books that he can remember are Consulting For Dummies and Managing For Dummies, both co-authored with his pal Bob Nelson. Also on the list is his just-published book, At the Helm: Business Lessons For Navigating Rough Waters, co-written with two-time America's Cup winner Peter Isler, and two more books to be published in Spring 2000: Home-Based Business For Dummies (with America's self-employment experts Paul and Sarah Edwards) and The Complete MBA For Dummies (with USC professor Kathleen Allen).
Not one to get stuck in a rut, Economy was selected by Time magazine to be its staff management expert for the TIME Vista Boardroom Web site (along with such business hot shots as reengineering guy Michael Hammer, marketing gurus Michael Treacy and Jack Trout, and others), where he fielded an amazing amount of questions from managers all around the world. And, as if that wasn't already enough, Economy also hosted weekly online chats on the topic of management on both America Online and iVillage.com.
In addition to his gig with 1099, Economy is consulting editor for Bob Nelson's Rewarding Employees, and he has written numerous articles for a wide variety of magazines, online content providers, and newsletters. He has his bachelor of arts degree (with majors in economics and human biology) from Stanford University and he's currently pursuing MBA studies at the Edinburgh Business School.
In his spare time, Economy loves to collect foreign-language versions of Managing For Dummies (of the 17 or so different foreign editions, he has bagged 10 -- most recently, the Lithuanian and Polish editions), surf the Web, and hang out with his family and friends. Economy also plays a mean guitar and enjoys tweaking his Web site, the latest version should be up any minute.