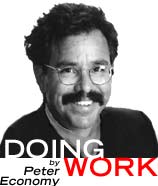 Columns by Peter Economy
List all of Peter's columns


Four or five times a year, my world turns upside down.
It usually starts with an insistent tapping on my shoulder at two or three in the morning. I'm either in bed or at work in my home office. A moment later, I'm dialing 911. Then the fire engine arrives. Then the ambulance. Finally, it's a fast 20-minute ride to the emergency room at Children's Hospital, where I'll spend anywhere from a couple of nervous hours, to early the next afternoon, waiting to see if my son will be admitted for a long-term hospital stay.
You see, my son has a chronic illness, one that's punctuated with random medical emergencies -- the kind that you see every Thursday night on ER -- and sometimes I have to spend days, or even longer, with him in the hospital. These emergency moments invariably disrupt my work life and threaten all of the intricate schedules that I have set up, the deadlines I have agreed to, and the peace and well-being of my clients.
An emergency, crisis, or disaster can happen at any time, and at any place -- and it can happen to you. And while large organizations won't even notice when an employee disappears for some period of time, when an IP goes AWOL it means a loss of business and the ability to serve clients. It's a double whammy: not only can an emergency put your immediate source of income at risk, but it can jeopardize your client relationships, creating problems that can undermine your business in the long term.
What would you do in an emergency? Would you be prepared to uproot your business and take it with you, wherever you might end up, or for however long you might find yourself away? Would you still be able to serve your clients? Would they be able to rely on you to get the job done?
While you hopefully won't have to deal with the kinds of medical emergencies that are a regular part of my life, there are plenty of disasters to go around. An earthquake, hurricane, tornado, or flood could force you out of your home or office (or home office) for days, weeks, or months on end. A power outage or brownout could leave you without your desktop computer, fax, and modem for a day or two. A fire could destroy your office -- and everything in it. Even something as unnatural as a hard-drive crash or hacker attack on your computer can halt the progress of your otherwise forward-marching business.
Truth is, there's no way that you can predict the time or place that an emergency, crisis, or disaster will occur. The best bet is to be prepared to bail out of your office on a moment's notice, and to have the ability to take your office and your work with you wherever you go.
Here's some advice for preparing for the kinds of emergencies that can turn your IP world -- along with your work and your clients -- upside down:

Get portable. If you don't already have a laptop computer, get one. When the authorities are driving through your neighborhood -- piping the order to evacuate in 10 minutes through the loudspeakers on top of their van -- you're going to be hard-pressed to unhook your desktop computer and peripherals, and to carry them to your car, along with all your work files and assorted stuff. In my case, when it's time to jump in the ambulance for a late-night trip to the ER, I can simply grab my laptop and go. If you have special tools that you'll need to take with you -- an electronic graphics tablet, for example -- be sure that it can plug right into your laptop. And don't scrimp too much on your laptop's price or features: it needs to be able to run the same applications as your desktop, and you may be using your portable for a long time. A smart alternative to having two computers is to buy a high-end laptop that you can also use as your desktop computer by simply plugging in a monitor, keyboard, Internet connection, and peripherals. When emergency strikes, just grab it and go.
Be prepared. Believe me, anything can happen to anyone at anytime. Don't assume that, because you've thus far led a charmed life (lucky you!), that that's always going to be the case. The best way to be sure that your business will survive an emergency, crisis, or disaster is to be prepared for it. Back up your hard drive regularly, and keep copies of all your work files in a handy place -- either on your laptop computer, or on a diskette or CD-ROM that you've packed along with it. I regularly back up my work files onto a CD-ROM, and keep this emergency disk with my laptop computer at all times. There are some really cool online alternatives available (like @Backup, DataSaver, and BackJack) that let you automatically back up your computer over the Internet while you sleep. When you need your files, they'll be waiting for you to access from your temporary office, wherever it may be. If you'll need other materials or supplies for active jobs, keep them all in one place in your office so it will be easy to grab them if you're on the run. Keep your laptop charged up, and buy an extra battery for it.

Pack a bag. Prepare an emergency briefcase, bag, or suitcase that's ready to go. My emergency briefcase is outfitted with my laptop computer, a USB mouse, a telephone cable, my power charger and European plug adapter, a CD-ROM containing the most recent backup of all my work files, a printout of my address book (from my Microsoft Outlook email program on my desktop computer), five or six prepaid FedEx labels (with my account number), paper, pens, pencils, and a pad of Starbucks gift certificates. When it's time to hit the road, I throw my cell phone into the bag, along with a few active documents and books, and I'm ready to go.

Have a backup plan for Internet access. While I have a cool, ultra-fast cable modem for my home-office desktop computer, it doesn't do me a bit of good when I'm using my laptop computer away from my office. For that very reason, I have kept my old America Online account active. As long as I can get to a phone jack -- anywhere in the country, or around the world -- I can get to America Online. There are other Internet services available that will allow you to do the same thing. Be sure that yours can as well.
If you're fortunate, you may never need to put these emergency plans and supplies into action. If you do, however, you'll be glad that you took the time to think ahead and be prepared. And so will your clients.